Services:
brand development //
visual identity //
social media //
Akhnai is a group of Jewish anti-racist advocates who work with community and professional organisations to deliver progressive antisemitism training for critical thinkers.
Akhnai asked us to develop a brand story for them, from sourcing a name to building a coherent visual identity. We had so much fun working on this wonderful project and creating a design that is grounded in accessibility, radical politics, and the Talmud.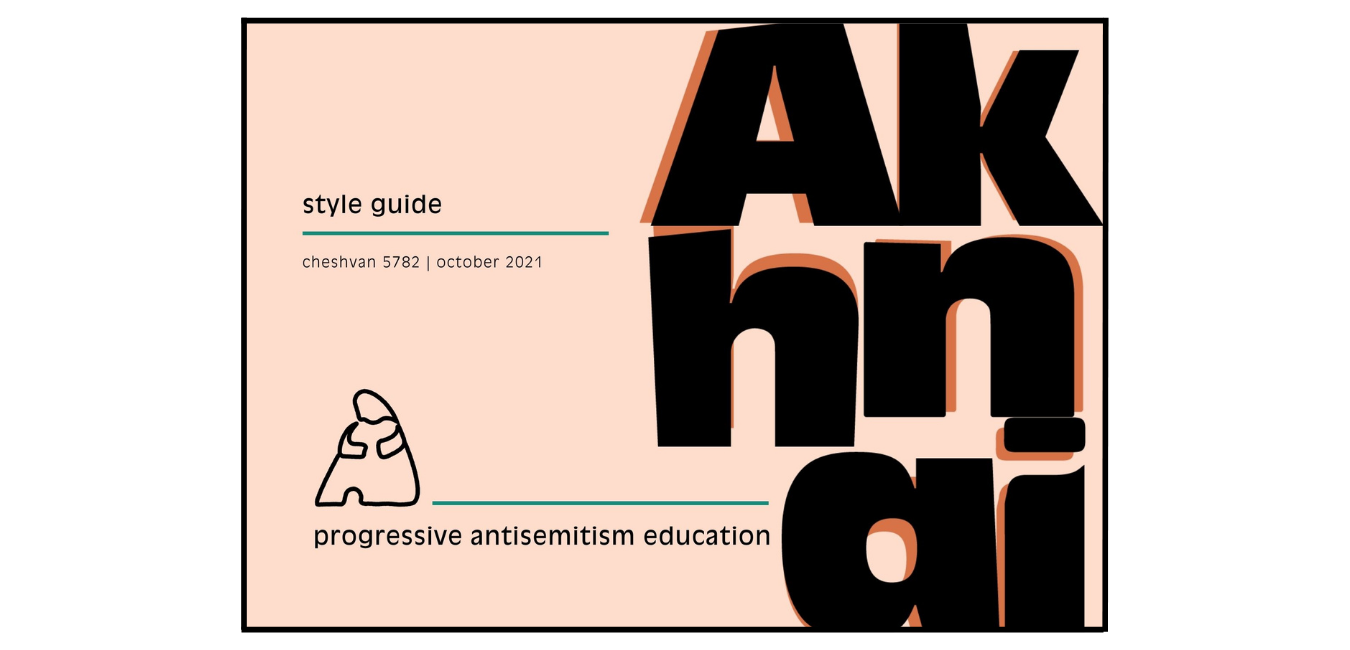 A complete brand story for a Jewish education project: for Akhnai, we developed a comprehensive visual identity that communicates its political vision and its Talmudic roots
All the heavy things that are in a name
Like all good origin stories this one began over dinner and a lot of talking. After much research and conversation, we settled on the the talmudic story of the oven of Akhnai (Bava Metzia, 59a) as our inspiration. It is a famous story, and we liked its fine balance between being recognisable while also being open to renewed interpretations in the light of anti-racist solidarity.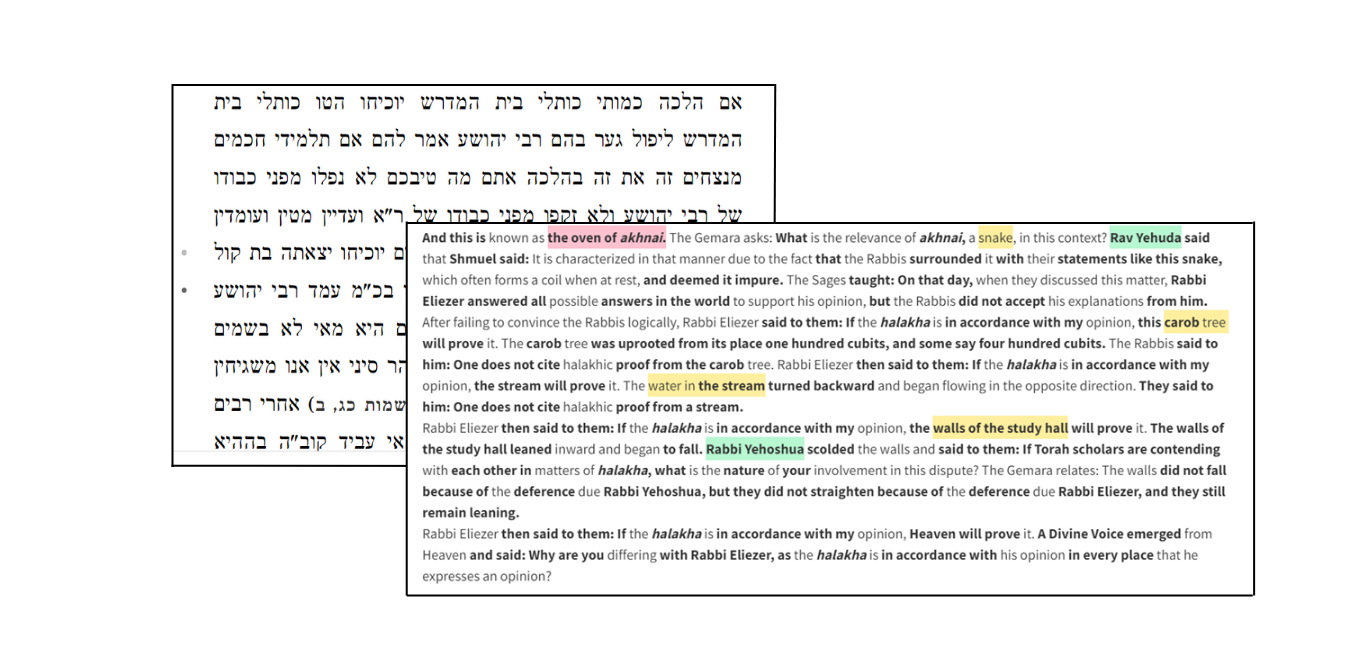 Our design process began with looking closely at the story of Akhnai, identifying recognisable visual elements in a way that honours the Talmudic tradition and resonates with the goals of our clients.
From Middle Eastern baking techniques to the Atelier Populaire
Once we had our name, our clients challenged us to create a logo based on the famous oven itself. What even did an oven look like during Talmudic times? Luckily, a few people have done exactly this kind of research, and we thoroughly enjoyed being steeped into the history of ancient Middle Eastern baking techniques.
The challenge, however, is to connect this material with contemporality, specifically anti-racist struggle and solidarity. Our clients loved the designs of the Atelier Populaire and its iconic posters from the 1960s student protests – and so we decided to bring the story of Akhnai into a style that is reminiscent of the pop-derived silkscreen prints of the French student movement.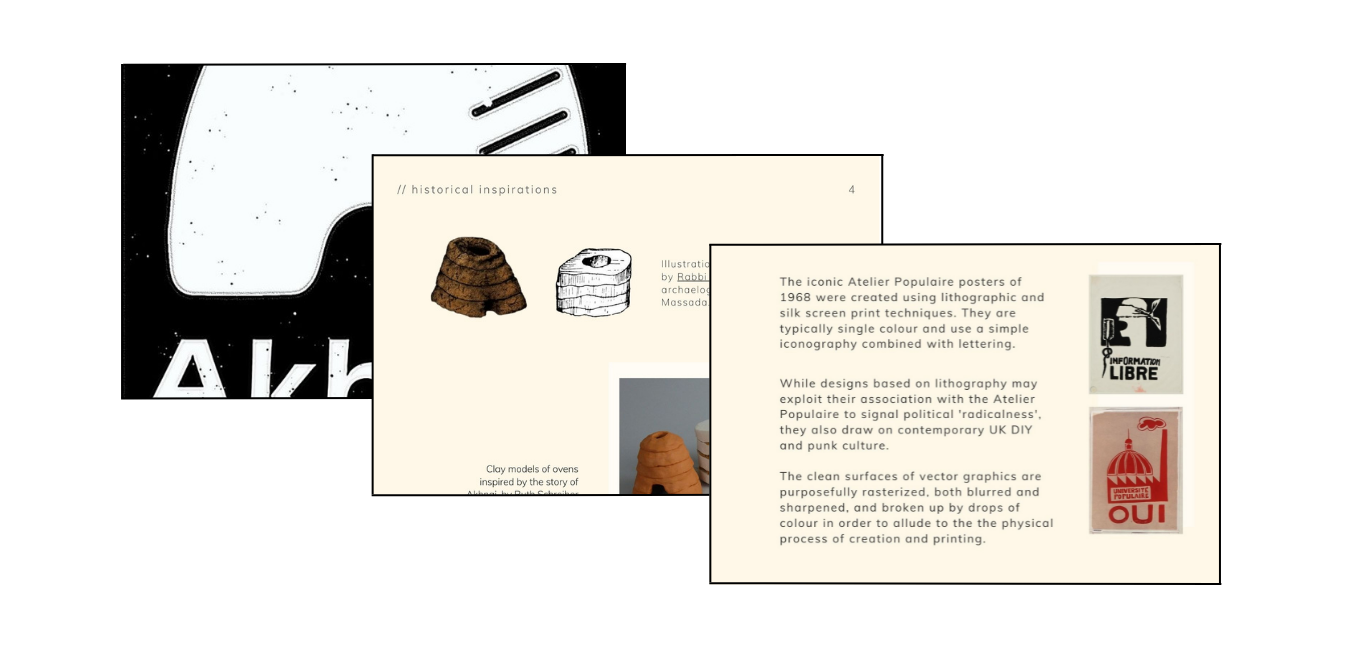 The past stretching into the present: our research bridged over one millennium, from Palestinian tabun ovens in the 10th century, to the French student protests in the 1960s.
Designed for accessibility
At the beginning of any of our project, we ask our clients to rate what is most important to them in good design. Our clients at Akhnai were clear that accessibility is the single most important factor to them. To honour this, we considered the user perspective of our design specifically from an inclusion angel. We wanted a design that works is simple and works across different platforms, a design that allows its users to adjust it to their own needs. As a brand font, we chose Sylexiad sans, an evidence-based font family specifically designed for adult dyslexic readers.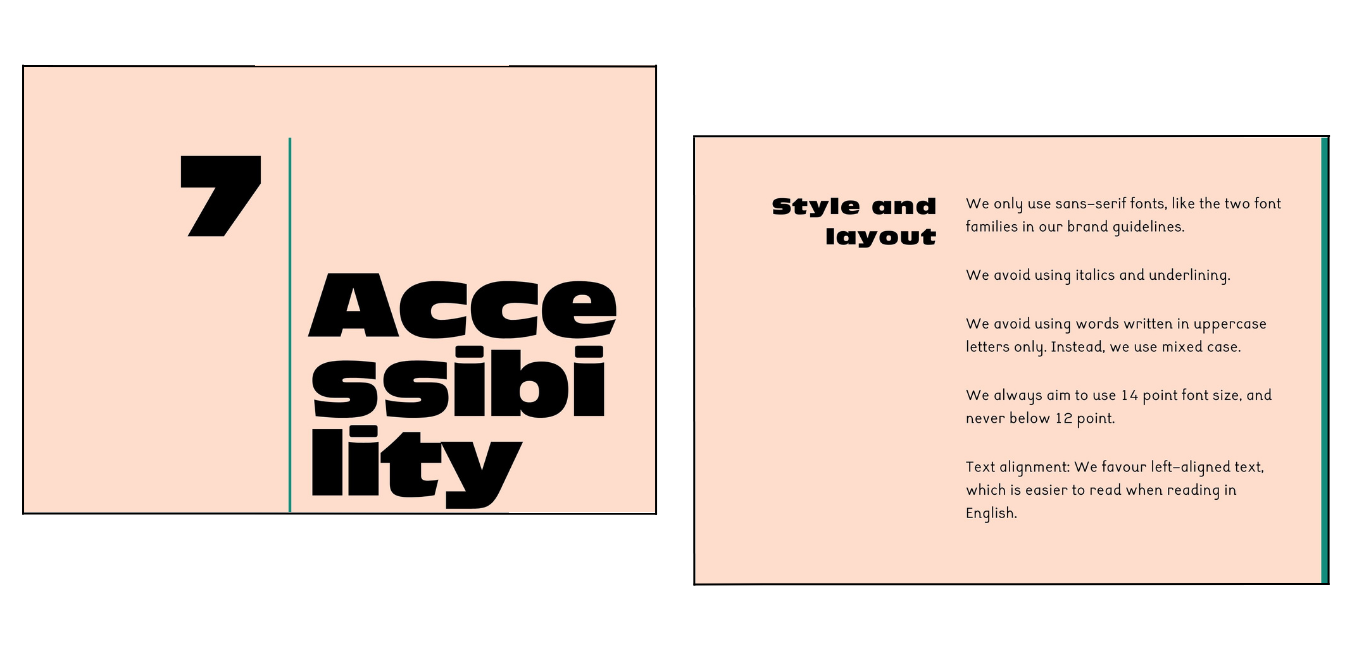 Our style guides always include comprehensive accessibility guidelines for both web and print.
Social media as a tool for educators and activists
Many of our clients use social media by necessity, and often reluctantly. We can't really blame them: social media is a difficult terrain to navigate for social activists and community educators. Social media algorithms are designed for profit maximisation and are thus contrary to the goals of our clients. Yet, our clients also know that a social media presence is needed for networking, showcasing work, and increasing legitimacy.
This is why we follow a 'no nonsense' approach when it comes to social media. For Akhnai, we created templates that are simple and easy to use. All of them can be used in Instagram itself, which means that no other image editing software is needed. We created a selection of stock photos and graphics to use – all our clients need to do is add their own text and their posts are ready to go! This means that our friends at Akhnai can spend their time doing what they really love: educating, connecting, and organising for anti-racist solidarity.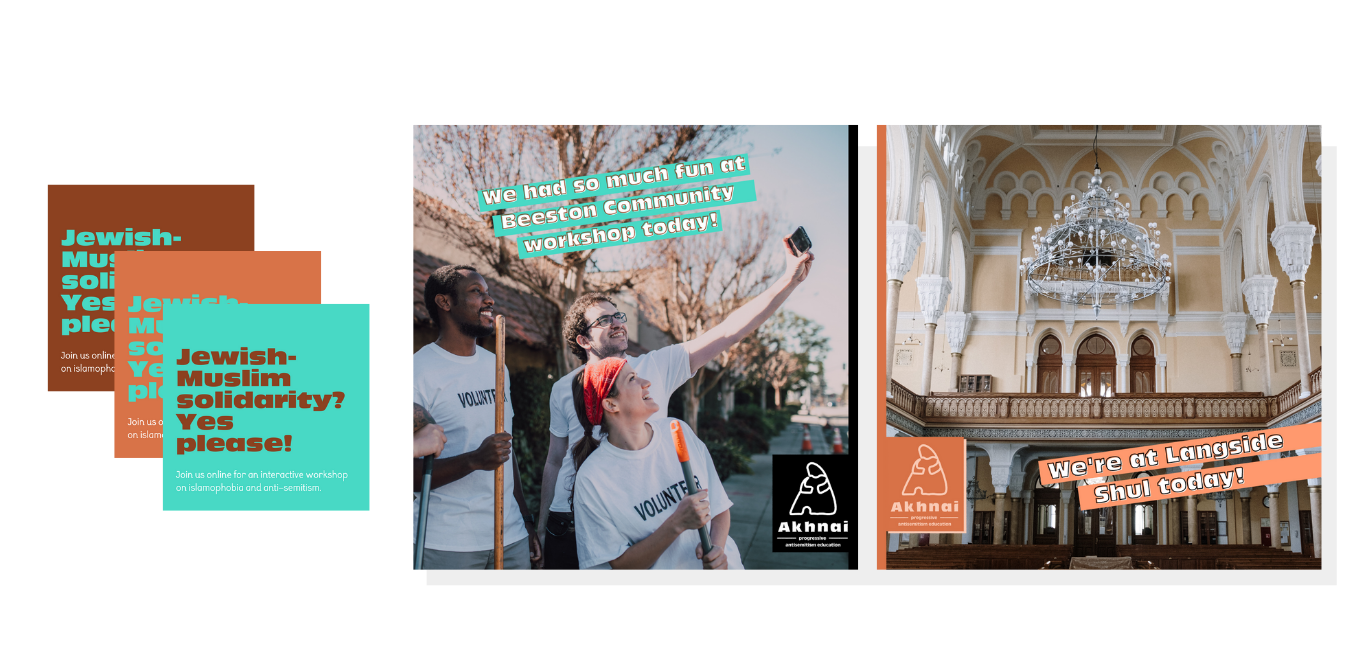 Social media templates for community educators: our templates allow clients to create a wealth of content, focusing on content without having to worry about the design.